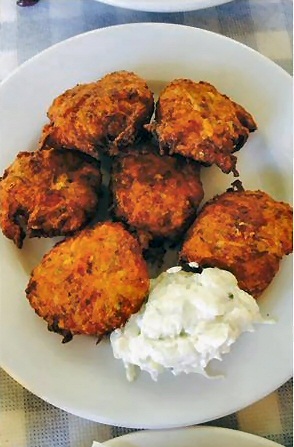 Ingredients

500gr ( 1lb) . zucchini, grated
2 tsp. salt 1⁄2 cup minced flat-leaf parsley
1⁄2 cup grated kefalotyri (If you can find this try Pecorino Romano cheese)
1⁄2 cup white flower
1 medium yellow onion, grated
1 egg, beaten
Freshly ground black pepper, to taste
One pickled red pepper ( florinis) to taste
Olive oil or vegetable oil, for frying

Mix zucchini and salt in a strainer; set a weighted plate on top; let drain for 30 minutes. Transfer zucchini to a tea towel; squeeze out liquid. Mix zucchini, parsley, kefalotyri cheese, flower, onions, pickled red pepper and egg in a bowl. Season with pepper; divide mixture into 12 balls. Press balls into 3⁄4"-thick patties.
Pour oil into a 4-qt. pot to a depth of 2"; heat over medium-high heat until a deep-fry thermometer reads 315°. Working in 2 batches, fry patties until browned and crisp, 5–6 minutes. Using a slotted spoon, transfer fritters to paper towels.
Serve with a spoonful Tzatziki.
MERRY CHRISTMAS!!
I found this recipe and thought… how many of you have asked me about how to make courgete-keftedes during the past years?
With this post I will try to send your our: Love, happiness and best wishes form the Brouklis Family!!