Welcome to our Taverna,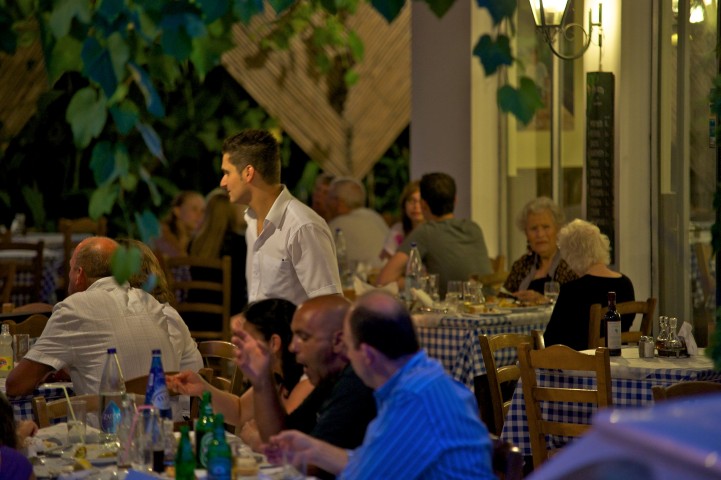 Where our family and Friends have been working for the last 40 years keeping the tradition together with the quality and local hospitality.
The Brouklis  Grill Taverna is a small establishment in the center of Arillas. this restaurant is not located on the sea front but tucked away in a side street, its sign hidden by vines, grown not for the grapes but for the shade they provide.
Discerning guests don't look at the menu but ask the waiter what he has today. Special delicacies are stifado , Spit roasted lamb, Bourdeto, Stuffed pork roll  and zucchini balls  the recipes, which have been passed down from generation to generation, are a closely kept secret.
All dishes prepared in our Taverna are made as if you would have had them in a local home. without any particular efforts to make the food look nice but using pure, local ingredients cooked in the way they have been cooked for the previous hundredths of years.
Snapshot for the menu:
"In our kitchen we do not use a microwave oven, nor stock cubes or other commercial ingredients."
"Our specialties are daily fresh prepared in a limited number of portions."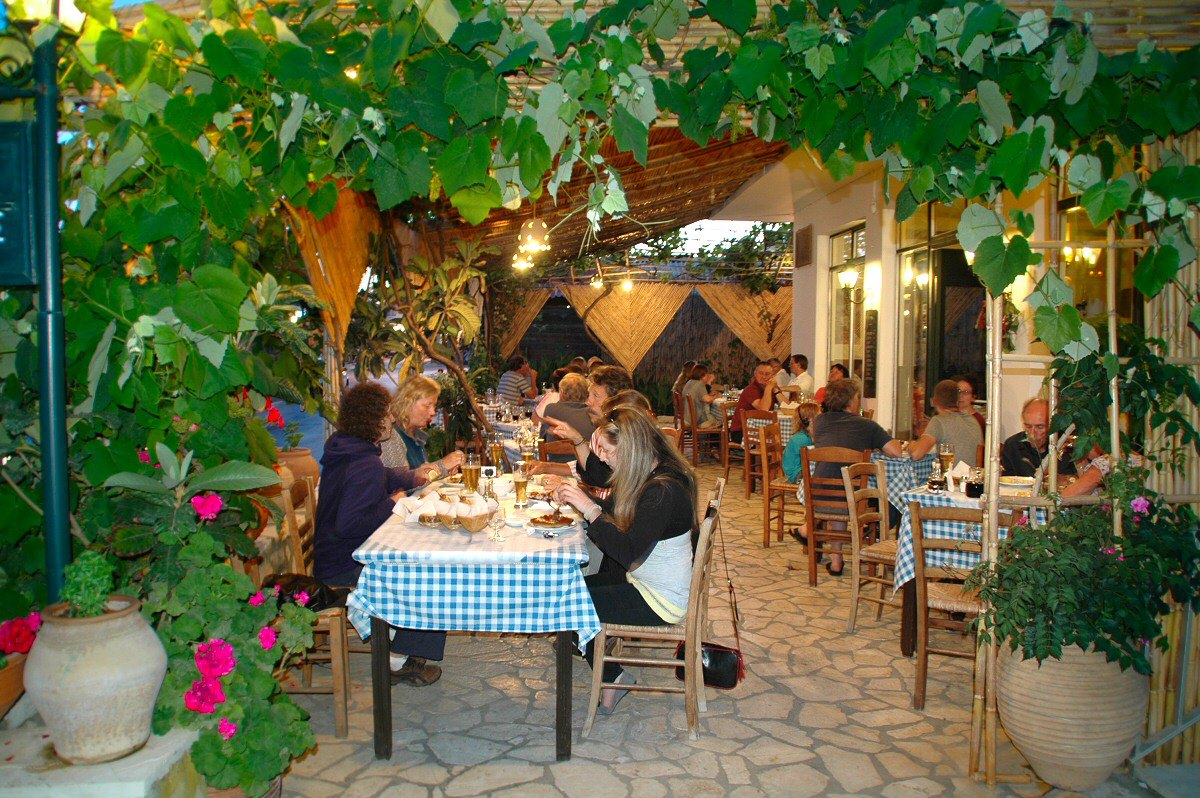 Our Taverna is open for good since 1st July 2020,
Every evening from 18:00 !
Reservations taken!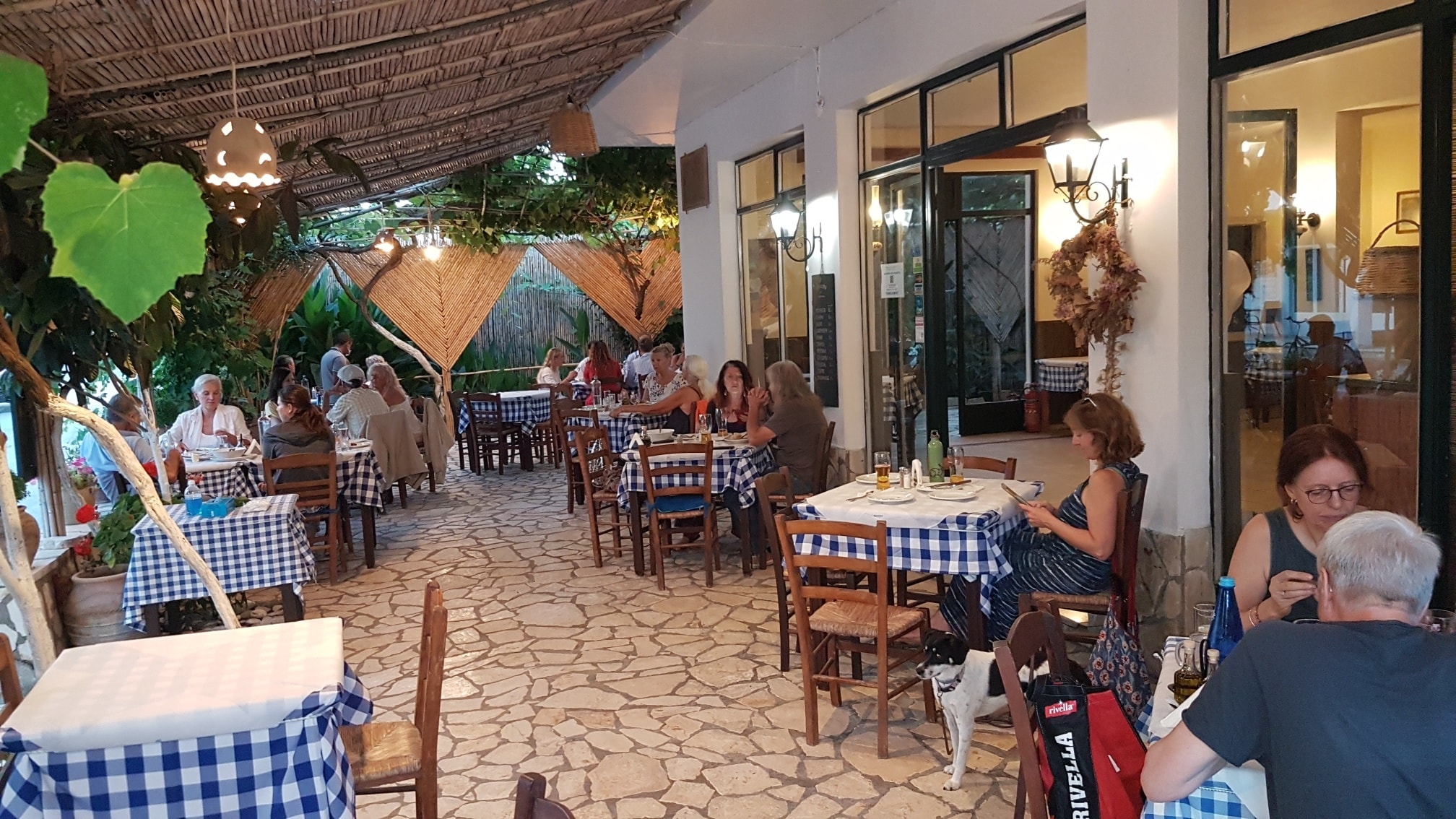 1. Die kleine Siedlung gehört zur Verwaltungseinheit Magoulades der Gemeinde Nordkorfu.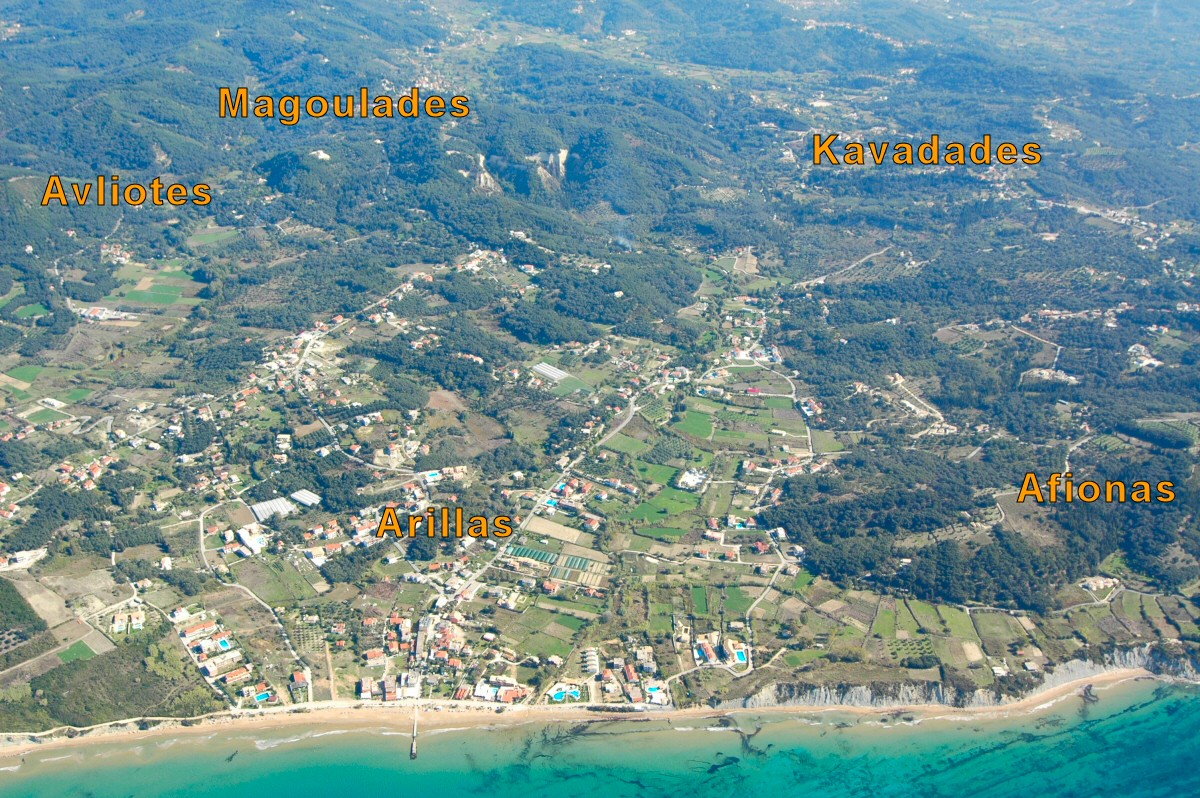 Nach Ansicht der dort lebenden Menschen erstreckt sich Arillas jedoch zwischen den Kaps von Arillas (Porto-Timoni) und dem Kap Kefali.
Die kleinen Siedlungen sind auf vier ehemalige Gemeinden verteilt: Avliotes, Magoulades (mit dem größten Teil), Kavvadades und Afionas. Der kleine Fluss, der ins Meer von Arillas mündet, ist die natürliche Grenze zwischen Afionas und Magoulades. Die Namen der Siedlungen Afionitika, Kavvaditika, Staousa und Boudeika werden administrativ den Verwaltungseinheiten Afionas, Kavvadades, Magoulades und Avliotes zugeordnet.
Der Name Arillas hat wahrscheinlich römischen Ursprung, denn zur Zeit des Römischen Reichs war es üblich, Orte nach Dingen zu benennen, die man dort in einer Vielzahl antraf und die Endung –ille anzuhängen. Damals gab es eine Eichenart mit dem Namen Aria (so wie diese heute noch von den Ältesten genannt wird), deren Holz sehr gut für den Schiffsbau geeignet war. Und so entstand Arillas. Nach einer anderen Version wurde das Gebiet nach dem römischen General Arilla, benannt, der während der römischen Besatzung sein Lager in dieser Region hatte.
Es gibt noch einen Strand in Griechenland mit dem Namen Arilla (mit weiblichem Artikel) und zwar in Perdika, Thesprotia.
Read more: ZEHN Dinge, die ihr vielleicht noch nicht über Arillas wisst
An article about our Taverna on a sunday newspaper in Athens explaining what we did to help solving the problem of the rubish in Corfu.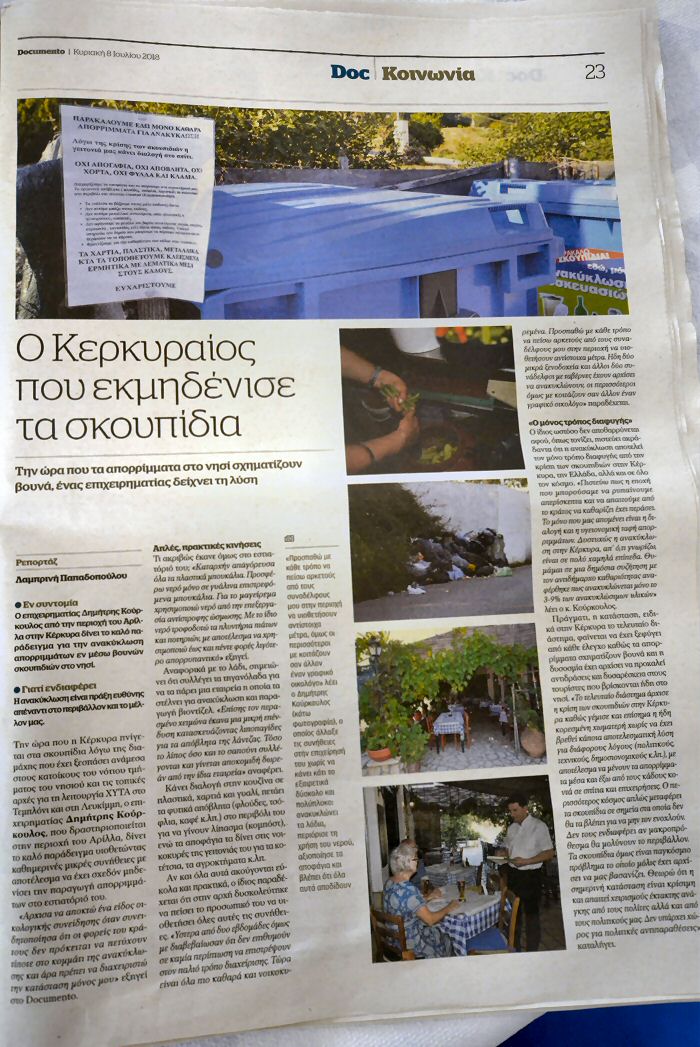 ΤΗΕ CORFIOT WHO REDUCED GARBAGE TO ZERO
While the garbage on the island is piled up in small "mountains", a local businessman comes up with a solution.

Story by:  Lamprini Papadopoulou

In brief
The businessman Dimitris Kourkoulos, operating in the area of Arillas, Corfu, is a leading example as regards recycling of garbage waste amid huge piles of rubbish all over the island.

Why is thist of interest
Recycling is an act of responsibility towards the environment and our future.
Some of the Brouklis guests are real celebrities.
They have been coming to Arillas for more than 25 years so they become part of our family and real friends.
They honour us with every visit they pay at our establishments.
You ought to ask them for an autograph....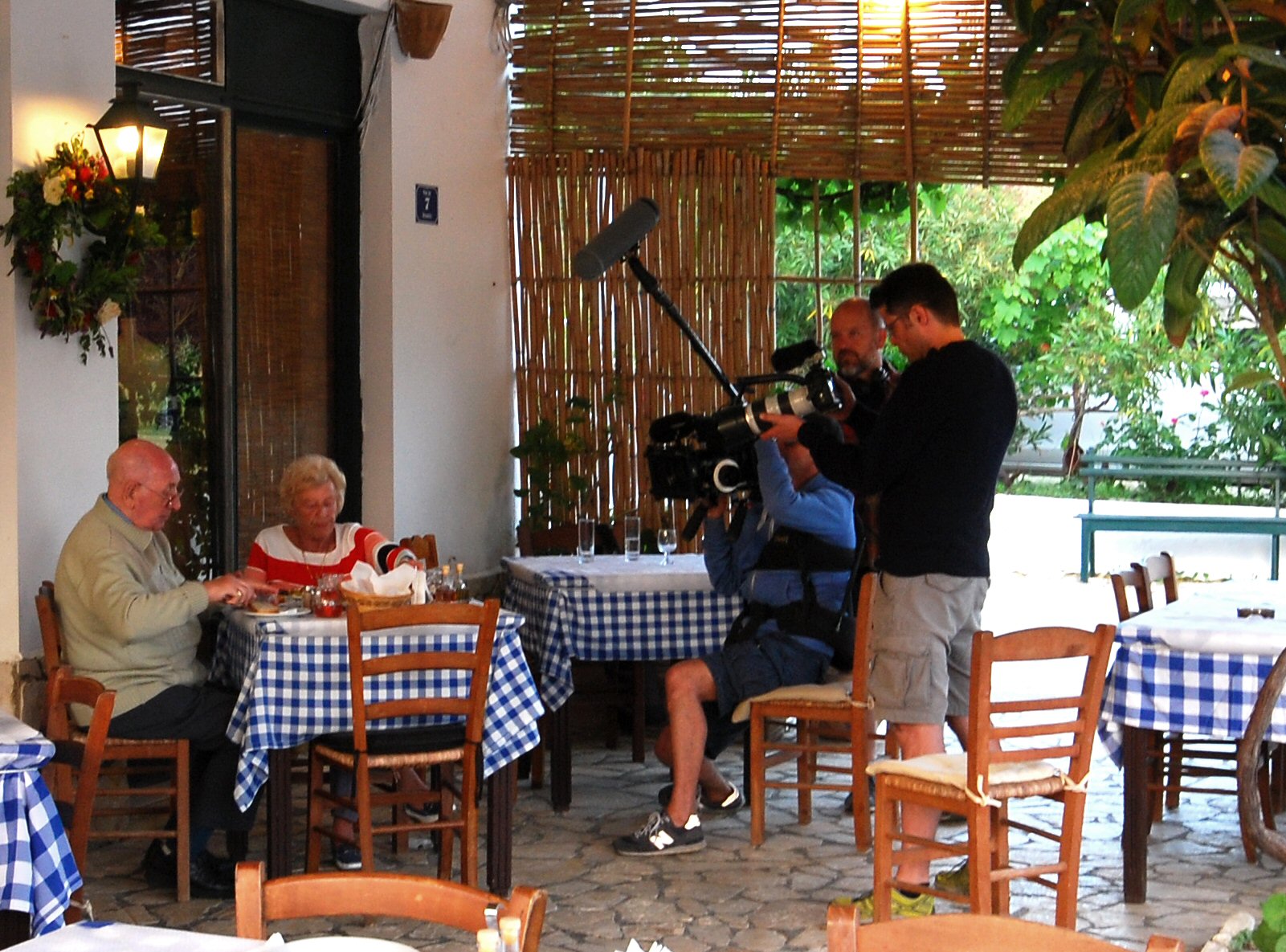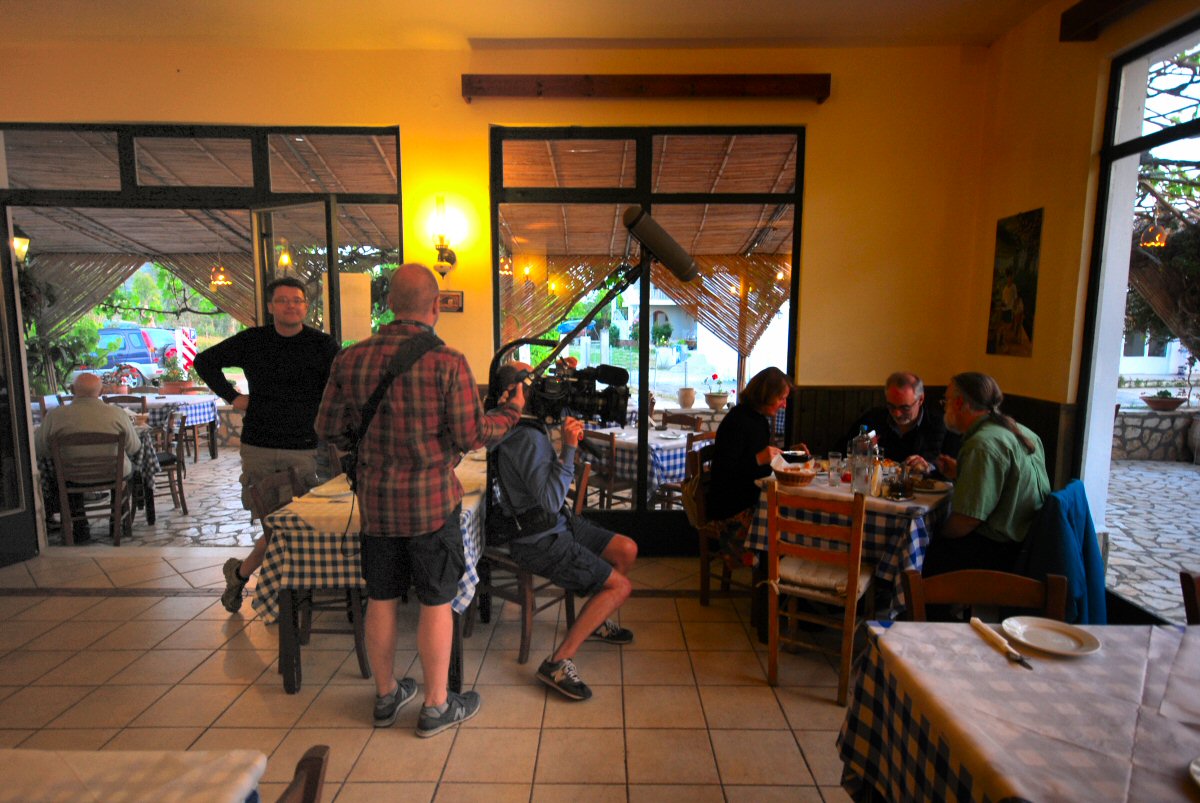 There is a video from the Ukranian-russian travel documentary that came to our Taverna at the beginning of last May,.
The program tells a story about a week-end travel from two perspectives: a wealthy traveller and a budget one.  
Two presenters (Ukrainian/Russian celebrities) flip the coin to decide who goes with "unlimited" budget and who has $100 for the same purpose.
"Heads&Tails" project has been created by the team of Teenspirit LLC production in 2010 and since then is a leading TV travel project in Ukraine, Russia, Belarus, Kazakhstan and Poland. Moreover the TV-show has a Russian speaking on-line audience in more than 42 countries and over 800 000 fans combined on Facebook and vkontakte social networks (www.facebook.com/OrelReshka and vk.com/orelireshka).
. Guess who had the best time!